TP-LINK CPE510

5GHz 300Mbps 13dBi Outdoor CPE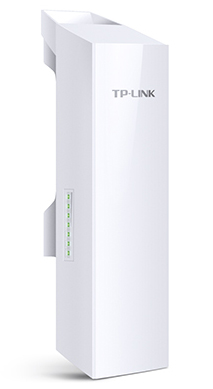 Overview:
TP-LINK's 5GHz 300Mbps 13dBi Outdoor CPE, the CPE510 is dedicated to cost effective solutions for outdoor wireless networking applications. With its centralized management application, it is flexible and ideal for point-to-point, point-to-multipoint and outdoor Wi-Fi coverage applications.  Professional performance, coupled with user-friendly design, makes CPE510 an ideal choice for both business and home users.
Enterprise Hardware
With Qualcomm Atheros enterprise level chipsets, high gain antennas and high quality material, specially designed enclosure, and PoE power supply, CPE510 is specially designed for outdoor use and can operate flawlessly in almost any climate, with operating temperatures ranging from -30°C (-22°F) to +70°C (158°F).
Advanced Antenna System
Built-in High Gain Dual-Polarized Antenna
Dedicated metal reflector ensures higher gain and lower noise interference
5km+ Wireless Data Transmission
Specially designed for outdoor uses, ideal for long distance wireless data transmission over 5km+, tested in the field.
Advanced TP-LINK MAXtream TDMA Technology
As network scale increases, wireless competition and collisions among CPEs and base stations will be so enormous that the real throughput of the network will drop, resulting in a serious impact on end-user experience. To mitigate these effects, the CPE210 uses MAXtream TDMA Technology.

Pharos Control – Centralized Management System
Pharos series also comes equipped with centralized management software that helps users easily manage all the devices in their network from a single PC - Pharos Control. Functions like device discovery, status monitoring, rmware upgrading, and network maintenance can be managed using Pharos Control.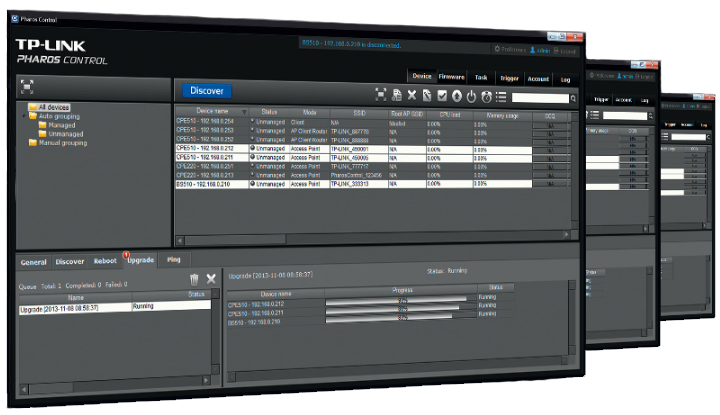 PharOS
User-friendly web-based management system allows professionals to do more specic congurations.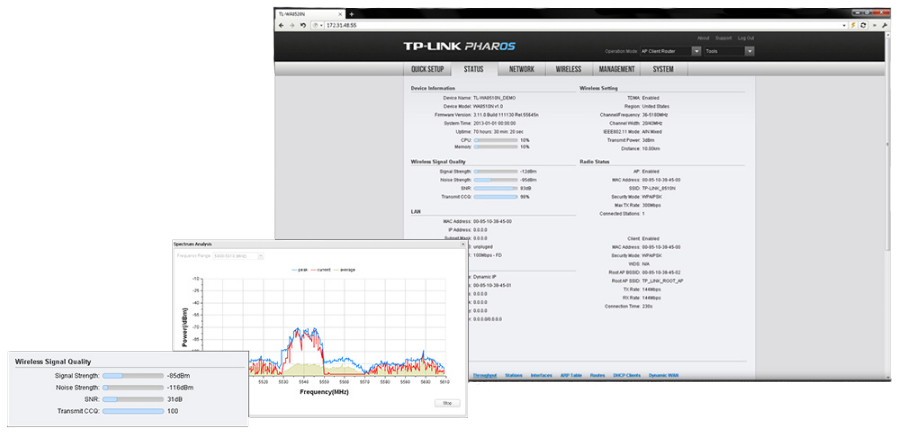 Professional Outdoor Design
Weatherproof enclosure with pole mounting design
Secondary Ethernet port with software enabled PoE output allows for seamless IP camera connectivity.
Shielded Ethernet ports and grounding terminal provide double protections against ESD attacks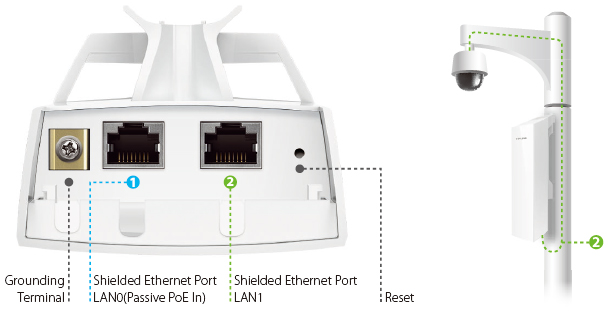 Easy Deployment and Maintenance
Passive PoE adapter makes installation easier, and its Remote Reset button allows for device to be reset remotely from power supply location.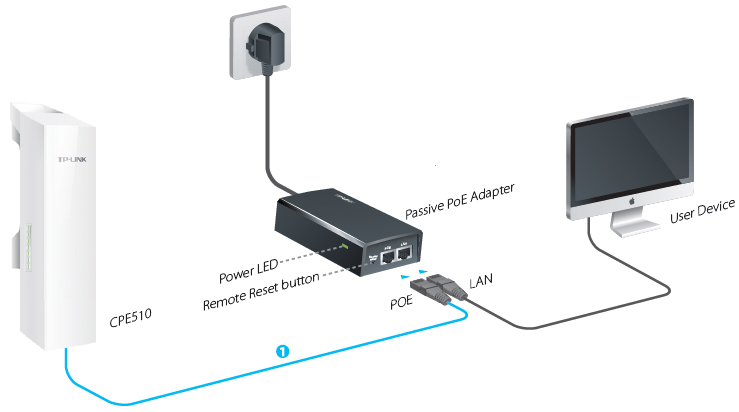 Features:

Built-in 13dBi 2x2 dual-polarized directional MIMO antenna
Adjustable transmission power from 0 to 27dBm/500mw
System-level optimization for more than 15km long range wireless transmission
TP-LINK Pharos MAXtream TDMA(Time-Division-Multiple-Access) technology improves product performance in throughput, capacity and latency, ideal for PTMP applications
Centralized Management System – Pharos Control
AP / Client / Repeater / AP Router / AP Client Router (WISP) operation modes
Outdoor stabilized enclosure with IPX5 waterproof certification
Dual Ethernet ports and grounding terminal integrated
6000V Lightning Protection, 15KV ESD Protection
Passive PoE Adapter supports up to 60 meters (200 feet) power over Ethernet deployment and allows for device reset remotely
Provides WEP, WPA/WPA2, WPA-PSK/WPA2-PSK data security
Selectable bandwidth of 5/10/20/40MHz
Provides Throughput Monitor, Spectrum Analyzer, Speed Test and Ping tools
Easy antenna alignment with wireless signal quality indicators via Web interface
Typical Applications:
TP-LINK's Outdoor CPE is dedicated to cost effective solutions for outdoor wireless networking applications. With its centralized management application, it is exible and ideal for point-to-point and point-to-multipoint applications.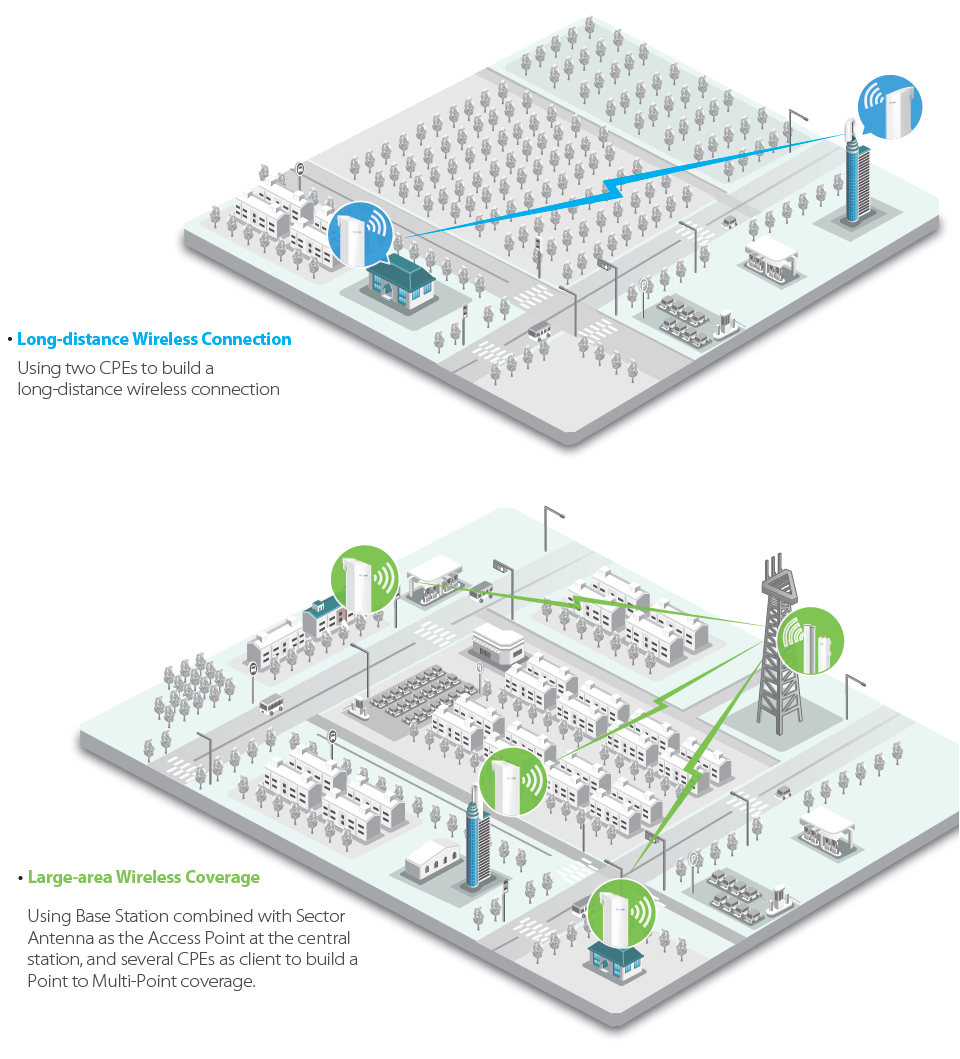 Specifications:
CPE510 Specifications
Hardware Features
Processor
Qualcomm Atheros Enterprise AR9350B 560MHz CPU, MIPS 74Kc
Memory
64MB DDR2 RAM, 8MB Flash
Interface

1 10/100Mbps Shielded Ethernet Port (LAN0,Passive PoE in)
1 10/100Mbps Shielded Ethernet Port (LAN1, Passive PoE Passthrough)
1 Grounding Terminal
1 Reset Button

Power Supply

Passive Power over Ethernet via LAN0 (+4,5pins; -7,8pins)
Voltage range: 16-27VDC

Dimensions (W x D x H)
224 x 79 x 60 mm
Power Consumption
13 Watts Max
Antenna Type

Built-in 13dBi 2x2 Dual-polarized Directional Antenna
Beam Width: 45° (H-Plane) / 30° (E-Plane)

Protection

15KV ESD Protection
6000V Lightning Protection

Enclosure

Outdoor ASA stabilized plastic material
IPX5 waterproof Certification

Wireless Features
Wireless Standards
IEEE 802.11a/n (with Pharos MAXtream disabled)
Proprietary Protocol
TDMA Mode (with Pharos MAXtream enabled)
Wireless Speeds

Up to 300Mbps (40MHz,Dynamic)
Up to 144.4Mbps (20MHz,Dynamic)
Up to 72.2Mbps (10MHz,Dynamic)
Up to 36.1Mbps (5MHz,Dynamic)

Frequency
5.15~5.85GHz
Transmission Power
27dBm/500mw (Adjustable power by 1dBm)
Software Features
Wireless Configurations

Pharos MAXtream TDMA Technology
802.11b/g/n Modes
Selectable Channel Width: 5/10/20/40MHz
Automatic Channel Selection
Transmission Power Control
Dynamic Frequency Selection (DFS)
WDS Enable/Disable
Security: WPA/WPA2, WPA-PSK/WPA2-PSK (AES/TKIP) Encryption, 64/128/152-bit WEP Encryption
SSID Broadcast Enable/Disable
Multi-SSID with VLAN Tagging (AP mode only)
Distance/ACK Timeout Setting
Wireless MAC Address Filter
Wireless Advanced:
> Beacon Interval/RTS Threshold/Fragmentation
>Threshold/DTIM Interval/AP Isolation/Short GI/Wi-Fi Multimedia

Management

Discovery and Remote Management via Pharos Control application
HTTP/HTTPS Web-based management
System Log
SNMP Agent(v2c)
Ping Watch Dog
Dynamic DDNS
SSH Server

System Tools

Wireless Signal Quality Indicators:
Signal Strength/Noise/Transmit CCQ/CPU/Memory
Monitors: Throughput/Stations/Interfaces/ARP/Routes/WAN/DHCP
Spectrum Analyzer
Speed Test
Ping
Traceroute

System-level Optimizations

Optimized IGMP Snooping/Proxy for multicast applications
Hardware watch dog

PoE Adapter Features
Interfaces

1 AC Jack with Earth Ground
1 10/100Mbps Shielded Ethernet Port (Power + Data)
1 10/100Mbps Shielded Ethernet Port (Data)

Efficiency
>80%
Button
Remote Reset Button
Certifications
CE/FCC/UL/IC/GS/PSB/C-tick/SAA/S-Mark/KC-mark
Power Status LEDs

0~0.8A: Green
0.8A~1.0A: Red

Output

24VDC, 1.0A Max
+4, 5pins; -7, 8pins. (Support up to 60m Power over Ethernet)

Input Voltage
100VA~240VAC @ 50Hz~60Hz
Dimensions (W x D x H)
110 x 57 x 33.5mm
Input Current
0.8A Max @ 100VAC
Input
100-240VAC, 50/60Hz
Output Voltage
24VDC (+4,5pins; -7,8pins)
Others
Certification
CE, FCC, RoHS, IPX5
Package Contents

Outdoor Wireless CPE
24V 1A Passive PoE Adapter
Pole Mounting Straps
AC Power Cord
Installation Guide

System Requirements
Microsoft Windows 98SE, NT, 2000, XP, Vista or Windows 10, Windows 8, Windows 7, MAC OS, NetWare, UNIX or Linux.
Note: We recommend you to use one of following Web browsers for an improved user experience: Google Chrome, Safari, and Firefox. IE browsers are not recommended.
Environment
Operating Temperature: -30°C~70°C (-22°F~158°F)
Storage Temperature: -40°C~70°C (-40°F~158°F)
Operating Humidity: 10%~90% non-condensing
Storage Humidity: 5%~95% non-condensing
RF Performance:
802.11a
802.11n
Data Rates
Tx Power
Rx Sensitivity
Data Rates
Tx Power
Rx Sensitivity
1Mbps
27
-95
MCS0
27
-93
2Mbps
27
-83
MCS1
27
-90
5.5Mbps
27
-76
MCS2
27
-88
11Mbps
27
-75
MCS3
27
-83
MCS4
27
-80
MCS5
27
-76
MCS6
26
-74
MCS7
25
-73
MCS8
27
-93
MCS9
27
-90
MCS10
27
-88
MCS11
27
-83
MCS12
27
-80
MCS13
27
-76
MCS14
27
-74
MCS15
27
-73
Antenna:
Antenna Features
Gain
13dBi
Beamwidth
45° (H-Plane) / 30° (E-Plane)
VSWR
1.6 Max
Polarizations
Horizontal/Vertical
Cross-pol Isolation
18 dB Min
H-Pol
Return Loss

H-Plane Pattern

E-Plane Pattern

V-Pol
Return Loss

H-Plane Pattern

E-Plane Pattern

Compare:
CPE520

CPE510

CPE220
CPE210
TL-WA7510N
TL-WA7210N
Wireless Performance
Wireless Speed
5GHz 300Mbps
5GHz 300Mbps
2.4GHz 300Mbps
2.4GHz 300Mbps
5GHz 150Mbps
2.4GHz 150Mbps
Transmit Power
27dBm
23dBm
30dBm
27dBm
27dBm
27dBm
Antenna
16dBi
13dBi
12dBi
9dBi
15dBi
12dBi
MIMO
-
-
Coverage Range
20km+
15km+
13km+
5km+
5km+
5km+
Hardware
Compatibility
802.11a/n
802.11a/n
802.11b/g/n
802.11b/g/n
802.11a/n
802.11b/g/n
External Antenna Interface
-
-
-
-
1 x RP-SMA
1 x RP-SMA
Weatherproof Enclosure
(IPX5)
(IPX5)
(IPX5)
(IPX5)
Dual Ethernet Ports
-
-
PoE Passthrough
-
-
Grounding Terminal
Lightning Protection over Ethernet Cable
-
-
ESD Protection
15kV
15kV
15kV
15kV
15kV
15kV
Lightning Protection
6kV
6kV
6kV
6kV
4kV
4kV
Power Supply
24V Passive PoE Adapter
24V Passive PoE Adapter
24V Passive PoE Adapter
24V Passive PoE Adapter
12V Power Adapter + Passive PoE Injector
12V Power Adapter + Passive PoE Injector
Software
Operation Modes
AP / Client / Bridge / Repeater / AP Client Router (WISP Client) / AP Router Mode
Channel Bandwidth
5/10/20/40MHz
5/10/20/40MHz
5/10/20/40MHz
5/10/20/40MHz
20/40MHz
20/40MHz
Transmit Power Control
Stepping 1dBm
Stepping 1dBm
Stepping 1dBm
Stepping 1dBm
Stepping 3dBm
Stepping 3dBm
Antenna Alignment
-
-
Throughtput Monitors
-
-
Spectrum Analyzer
-
-
Iperf Speed Test Tool
-
-
Pharos Control Supported
(Central Network Management Application)
-
-